Business Credit Card
A hassle-free VISA Credit Card offering the same convenience and service you've come to expect from TBA Credit Union.
No Annual Fee – You read that right, no annual fee.
Bonus Points that Never Expire – Earn one Scorecard Rewards bonus point for every dollar spent.
EMV/Chip Cards – EMV/Chip cards available.
Digital Wallet– Apple Pay, Google Pay, and Samsung Pay enabled.
Fast Cash – Available at thousands of ATMs and walk-up locations nationwide.
Fraud Protection – When irregular transactions appear on your account, you will be called to verify purchases.
Flexibility – Limits available from $500 to $30,000.
Convenience – Pay by mail, online or at any branch office. Access account information online 24/7.
Local Servicing – Call or text 231.946.7090 from 8 to 6 Monday through Friday for balances, card replacements or general questions regarding your account.
Eco–Friendly – Choose free e-statements and limit paper waste.
Contact Commercial Team    |    Its My Biz Login  
---

Business Loans
At TBA Credit Union, we understand that your business needs to grow. No matter your needs, we are here to expand your business through a variety of lending options.
Real estate: Purchase new real estate or refinance owned real estate for various purposes. TBACU offers flexible terms to suit your business needs. 
Lines of credit: Useful for a business to use for seasonal cash-flow demands or other various needs for your business. Lines of credit can be secured by real estate, equipment or other physical assets. Unsecured lines of credit may be also available depending on various factors.
Automobile/fleet: Used to purchase new automobile(s) or refinance existing business automobiles, trucks etc. TBACU has a fast approval process to get your business out on the road and growing quickly. 
Equipment: Used to purchase new or refinance existing equipment used by a business. Similar to auto lending, TBACU has a fast approval process to help small businesses keep running by securing the equipment they need to perform.  
SBA Loans: TBA is an authorized SBA Lender and partners with great local CDC's and other SBA supported organizations to help small businesses find the best options available for their needs. For more information on SBA Loans, visit www.sba.gov for specific programs. 
Contact Commercial Team   |  Its My Biz Login
Forms and Documents
---
Contact the Commercial Team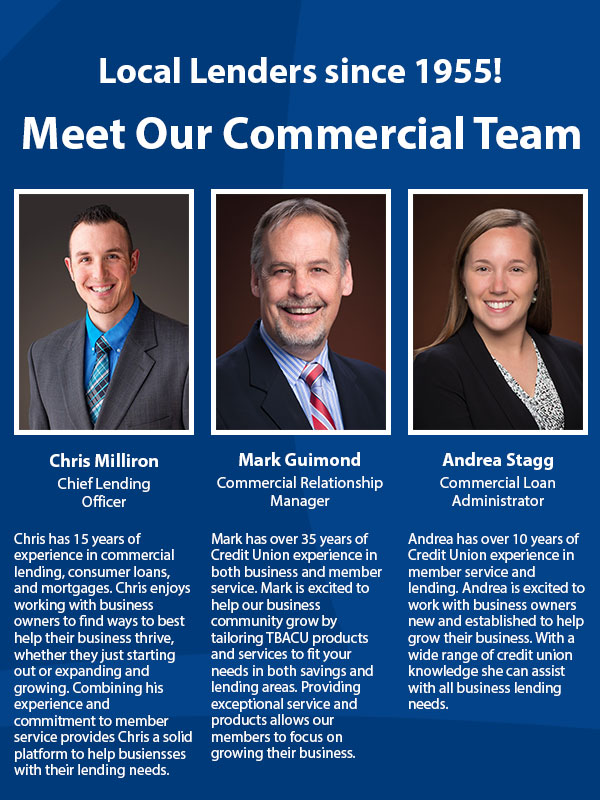 "When I needed business help in the midst of Covid-19, Andrea at TBA Credit Union was immediately helpful. She started a PPP loan process ASAP for me, kept me in the loop with changes, and communicated frequently and clearly. TBA showed up for me in a way I've never experienced with another bank, and I'm so appreciative of their care for and attention to small business customers."- Mareesa Orth, Design by Reese LLC | May 2020