CheckLogic Merchant Capture
Welcome to CheckLogic Merchant
CheckLogic Merchant is a simple and effective way for Merchant Members to capture checks from their home or office using a check scanner. After checks have been scanned, the batches are submitted for processing and users are able to know the status of their deposit thru the portal site. Once batches are submitted for processing, users can view the status and activity of their deposits via the Members Portal.
Key Advantages of Merchant Capture.
Make your funds available faster.
Make deposits anytime.
Save time preparing deposits.
Consolidate funds from remote locations into TBA Credit Union
Cut costly courier fees or trips to the financial institution.
Reduce risk of check fraud.
Is Merchant Capture for you?
Does your business:
Have multiple locations?
Make deposits after normal banking hours?
Pay transportation costs to deliver deposits?
Receive checks with large dollar amounts?
If you answered YES to any of the above questions, then Merchant Capture may benefit your company. It's like having a 24-hour teller right in your office.
Get faster funds availability – With electronic deposits, checks can be deposited into your account sooner, so your money is working smarter for you.
Make deposits anytime – Enjoy the convenience of making deposits electronically 24 hours a day, 7 days a week, even weekends.
Save time preparing deposits – Preparing deposits electronically is very efficient, reducing labor costs and freeing up staff for other tasks.
Save time and money – Electronic deposits can reduce trips to the bank and eliminate costly courier fees.
Streamline your cash flow – Check deposits can easily be made from any remote office or storefront. This makes it easy to consolidate deposits from multiple locations into a single bank.
Reduce risk of check fraud – Faster check clearing may allow you to act sooner on returned checks, increasing your opportunities for collection.
Work more securely – Multiple layers of security include password protection, Internet firewalls, and 128-bit encryption – the highest level of security commercially available.
What you will need.
Merchant Capture is easy to set up and use. All you need is:
ItsMyBiz Login | Contact Commercial Team
---
A PC with an open USB 2.0 port and a current version of VIsta (32 bit or 64 bit) Windows 7 (32 bit or 64 bit), or Windows 8 and Internet Explorer® 9 or newer.
A properly installed desktop check scanner.
Commercial ACH Origination Service
Streamline you business. Our Commercial ACH Origination offers you an all-in-one service.
Payroll Direct Deposit: This service allows the business member to deposit payroll earnings directly into their employees' accounts. Employees can also automatically distribute their payroll earnings into different savings and checking accounts within multiple financial institutions.
Health Savings Account (HSA) Direct Deposit: This service offers a quick and easy way for a business member to transfer funds from their corporate account to their employees' HSA account.
Electronic Child Support Payments & Garnishments: Provides the convenience of paying mandated child support and other garnished wages electronically.
Corporate Transfers & Cash Management: Transfer funds, manage cash, pay business partners, and schedule pre-authorized payments from customers and vendors. A business member can also use the above service to withdraw payments from authorized business partners for delivery or shipment of products.
Electronic Bill Payments:Consumers can have their bills paid electronically by authorizing the business to withdraw the payment owed on each payment due day.
ItsMyBiz Login | Contact Commercial Team
---
ItsMyBiz Mobile App
Manage your Business Accounts from your mobile device. Download today!
---

SBA PPP Loan Forgiveness
The SBA has released initial guidance on the forgiveness process for the CARES Act PPP Loan program. The SBA has announced they will begin receiving applications as early as August 10th. For more information about the process, see the SBA site for more details. TBA has communicated with all current PPP borrowers via email and provided initial instructions for how to proceed. While we are still waiting for final guidance on how to submit forgiveness to the SBA, we have received the Forgiveness Applications and Instructions and have them below for your review. We will continue to update the page as we get more instructions from the SBA.
On October 8, 2020 the U.S. Small Business Administration, in consultation with the Treasury Department released a simpler loan forgiveness application for Paycheck Protection Program (PPP) loans of $50,000 or less. This action streamlines the PPP forgiveness process to provide financial and administrative relief to America's smallest businesses while also ensuring sound stewardship of taxpayer dollars.
SBA began approving PPP forgiveness applications and remitting forgiveness payments to PPP lenders for PPP borrowers on October 2, 2020. SBA will continue to process all PPP forgiveness applications in an expeditious manner.
Most small businesses will use the EZ documents to request PPP Loan Forgiveness:
IF a business does not qualify for the EZ Application, the PPP Forgiveness FULL application is below:
---
Contact the Commercial Team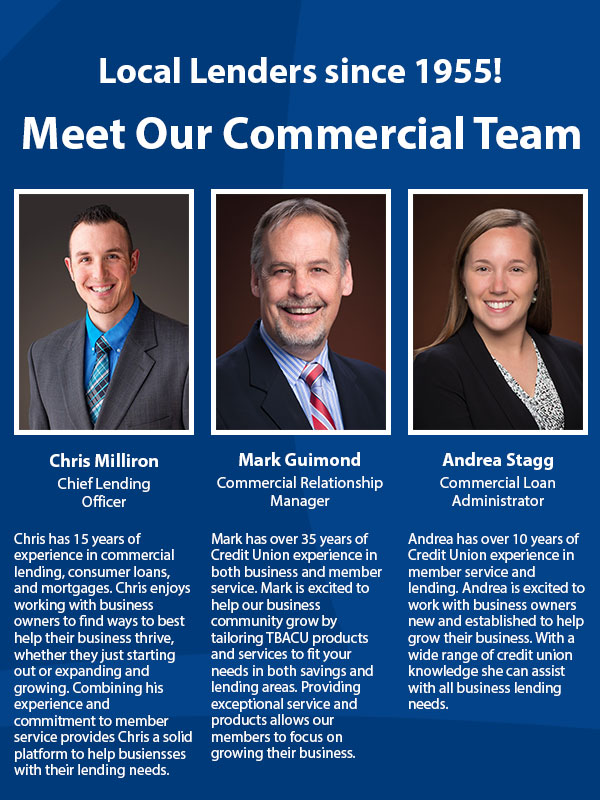 "When I needed business help in the midst of Covid-19, Andrea at TBA Credit Union was immediately helpful. She started a PPP loan process ASAP for me, kept me in the loop with changes, and communicated frequently and clearly. TBA showed up for me in a way I've never experienced with another bank, and I'm so appreciative of their care for and attention to small business customers."- Mareesa Orth, Design by Reese LLC | May 2020