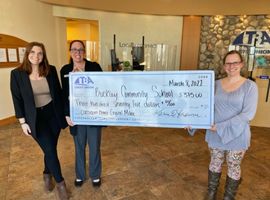 As school districts continue to experience budget cuts, educators search for new and creative means to fund projects and programs in jeopardy of being eliminated.  Committed to students and the educators dedicated to their success, TBA Credit Union is proud to offer Classroom Improvement Grants.
Applicants are selected for funding based on how many students benefit from the request, how the request relates to classroom instruction and how funding will impact the future of students.
Guidelines
All applicants will be notified within two weeks.
To allow a range of educators to benefit from the grant program, schools who have not received a grant in the last two years will be given first consideration.
Recipients who fail to arrange a grant presentation within two months of notification forfeit the award and will need to resubmit an application for consideration.
Grant Application
Previous Grant Recipients
2022
Buckley Community School | Crystal Milne
2021
Allison Zimpfer | Suttons Bay Middle School
Julie Keck | Traverse City West Senior High
Michelle Lazar | Grand Traverse Academy
Jonathan Swegles | Traverse City West Middle School
Stephie Luyt | Blair Elementary 
Jessica Vitale | Suttons Bay High School
Kate Heydlauff | Traverse City West Senior High
Debbie Heitzman | St. Mary School – Lake Leelanau
Erika Corcoran | Birch Street Elementary
Rebecca Huggard | Willow Hill Elementary 
Kristina Willis | Kalkaska Middle School
Kip Knight | Lakeland Elementary School
2020
Jennifer Gretzmacher | Glen Lake Elementary School
Maria Elshaw | Immaculate Conception Elementary
Kristin Sulecki | Silver Lake & Westwoods Elementary
Alicia Richards | Traverse City West Middle School
Jenny Walter | Traverse Heights Elementary
Janine Winkler | Immaculate Conception Elementary
Patty Roussety   |   Kingsley Elementary
Kris Galoci   |   Greenspire School 
Doug Gle   |   Traverse City Central High School