TBA Credit Union began with a few spare dollars, a cigar box and a basic trust in people. It was 1955. Dwight Eisenhower was in the White House. Elvis had not yet had his first hit. And a few members of the Traverse City school system were making a little history of their own. Seeing a need to help educators and school staff with their finances, the small group pooled the $50 needed for a credit union charter.
On Thanksgiving Day, 1955, the Traverse City Board of Education Employees Credit Union was chartered. The original board members were Garland L. House, James C. Baker, Jr., John Youker, William Novak, Allen A. Lockman, H.J. Olson, Edward H. Bailey and G.E. Loomis who all had four shares each. Referred to as TBA Education Credit Union starting in 1967, the official license was received in January of 2004, making the new credit union name TBA Credit Union. In those early days, funds were kept in a cigar box. Those needing a loan could take what they needed and leave an I.O.U. to be covered the next payday. It was a level of shared trust that continues today with TBACU members. Like our area, TBACU has grown considerably and now provides a wide range of services to over 20,000 members. We strive to provide financial education for all ages and to stay true to our co-op roots.
Eligibility
Membership in this credit union shall be limited to:
Persons who reside, are employed, worship or attend schools in the State of Michigan.
Alumni of the Northwestern Michigan College of TC.
Any person who receives a retirement annuity, pension, social security, or similar retirement annuity, pension, social security, or similar retirement payment from private or government sources, and lives in, or belongs to a retirement organization located in the county, or in a county contiguous to the county where the credit unions principal place of business or a branch office is located.
Employees of this credit union.
Members of the immediate families of the foregoing.
A spouse of a deceased member if accepted into membership prior to remarriage.
 Mission
To serve the community and build trusted relationships.
Service Standards
YOU will receive an immediate and friendly greeting.
YOU will be serviced with a smile.
YOU will be addressed by name.
YOU will be given our full attention.
YOU will receive recommendations to improve your financial well-being.
YOU will be treated with courtesy and respect.
YOU will be thanked for your business.
Core Values
       Passion – We own our emotional commitment to TBACU and its goals.
       Integrity – We are accountable for our professional and personal behavior.
       Collaboration – We believe in working together and accomplishing goals as a team.
Annual Membership Meetings
Our Annual Meetings are held each year on the third Tuesday of March. All TBA Credit Union members are invited and encouraged to attend the Annual Meetings each year. Review the most recent report and view the Annual Meeting:
Financial Stability & Recognition
Each month our financials are posted on our website and within our branches.
November 2023 Financial Statement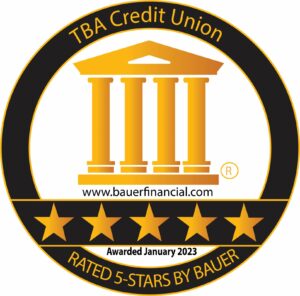 Bank vs. Credit Union
Many wonder, "What IS the difference between credit unions and other financial institutions?" The answer is simple: Credit unions exist to help people, not to make a profit. That difference resulted in TBA Credit Union being established as a financial cooperative rather than a bank. At a cooperative, you are a member/owner, not a number/customer.
Close to 186 million people are members of credit unions in 97 countries. As financial cooperatives that stand for social responsibility and economic viability, credit unions address the common goals of their members.
Voluntary and open membership
Democratic member control
Member economic participation
Autonomy and independence
Education, training, and information
Cooperation among cooperatives
Concern for community
As financial cooperatives, credit unions are much more than money lenders and holders. We stand for the power of people helping people. Credit unions are prime examples of how the cooperative spirit transforms individuals and advances communities, the first steps toward building a better world.